OU Doesn't Bobble Victory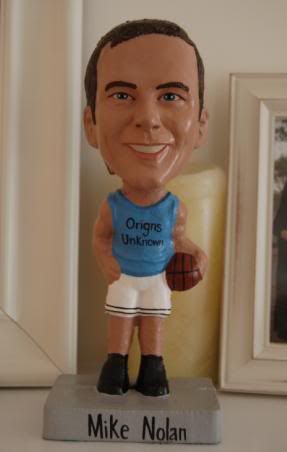 Reading, MA – The Hustlers showed up at the YMCA in Reading with more fans, more players, and more muscle. But, they ended up with fewer points and far fewer highlights, as the night's fearless foursome from Origins Unknown ran them off the court, 83-64.
OU, playing without Pete "Backwards 4 Muscle" Martin, James "Stretch" Hogan IV and "Shu-ter" Patel, were forced to call upon the greatest 7th man in the country, Craig Andrews, to help ground and pound the young Hustlers. Andrews, Dan "Fish" Fisher, Cap'n Mike and Dr. Greg Robinson took on the Hustlers, and the hot temperatures, with a well-balanced attack which had all players in double-figures.
The game started out in typical Hustlers fashion with a lot of energy from the young upstarts, but not a lot of success. OU opened up a 9-2 lead early, and maintained a 10 point cushion throughout the first half. Fisher knocked down several pull up jumpers, and the OU bunch cut and ran their way to several fast break lay-ups. The lead ballooned to 17 at one point, but the Hustlers made a quick run after knocking down some pull-up threes. Calling a timeout at the six-minute mark, OU regrouped and went on to finish the half up 34-18.
Halftime brought a surprise from Cap'n Mike. Compliments of his wife and son for Father's Day, Cap'n Mike unveiled the "Official Mike Nolan Bobble Head Doll", complete with OU jersey, white shorts, and trademark black shoes and socks. This got a chuckle from the team, and the referee. Andrews did point out that whoever made the bobble-head was generous with the hairline…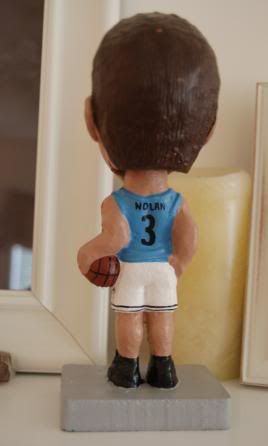 Back to the action. The second half started out evenly, as the Hustlers cut into the lead – only to see OU push it back up over twenty points in short order. Cap'n Mike and Andrews started to connect on the long-range trifectas, and OU relentlessly pounded the glass to keep alive missed shots. On one trip up the court, OU tipped out three missed shots, and eventually found an open Andrews for a three in the corner. This effort on the glass helped OU to continue to maintain the lead, despite some defensive lapses and fatigue. The final scoring tally was well-balanced, as Cap'n Mike dropped 30, Fisher 26, Andrews 19 and Dr. Greg 14.
OU sits atop the league standings at 2-0, with the meat of the schedule still to come. Next Thursday, OU will match up against the new faces of the Celtics at 7:30. Based on their reputations, the Celtics should be a contender for the YMCA championship t-shirts, and should be a good test for the veteran OU bunch.